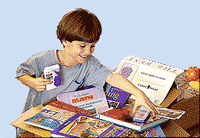 Our Second Grader will be immersed in the reading skills that will propel our students as a learner .Phonics storybooks , appealing anthologies, and a critical thinking book enhance our studentsf education.
Our children will begin to express ideas in original compositions.
With the Calvert Math series, our studentfs confidence will grow, along with the ability to think mathematically.
New Technology lessons focus on touch typing, spreadsheets, using e-mail and the Internet, visual mapping, and database skills.
Science, history read-aloud stories, map and globe skills, and art add to a well-rounded curriculum.
@

What Our Children Will Learn...
Technology
Application lessons, activities, and online interactive learning tool integrated with curriculum: keyboarding; introduction to touch typing; word processing basics; introduction to spreadsheets; using e-mail and the Internet; beginning database skills; visual mapping. Internet activities integrated with Reading and Science texts
Reading

Reviewing word analysis techniques, long vowels, digraphs, consonant clusters, vowel pairs, blends, and r-controlled vowels; developing comprehension skills; building strategies for comparing, contrasting, predicting, inferring, and drawing conclusions; identifying cause and effect; summarizing; recognizing topics, main ideas, details; reading appealing anthologies, phonics library book of stories; developing critical thinking skills
Writing/Composition
Practicing Calvert Script as reinforcement of learning to read; writing dictated words and sentences; writing compositions; practicing spelling and vocabulary; learning rules of punctuation
Mathematics

Featuring Calvert Math. Adding and subtracting 2- and 3-digit numbers; money; patterns in addition, subtraction; measuring weight, capacity, temperature; perimeter, area, volume readiness; problem-solving strategies; telling time in 5-minute increments; 2- and 3-dimensional geometric figures; fractions, sets, probability; introducing multiplication and division
Science

Developing natural curiosity; questioning, investigating, experimenting; studying changes in animals, plants, Earth, environment; sound; light; measuring; human growth; health; heat, air, weather; Earth and the Sun; forces; machines
History
Exploring 36 original read-aloud stories; biographies of well-known explorers, pioneers, inventors, and political figures; accounts of famous events (Paul Reverefs ride, fall of the Berlin Wall); activities included
Geography
Understanding the five themes of geography; studying land and water features; cardinal directions; maps, symbols, and map keys; compass rose; globes; continents; oceans; relative and exact locations; boundaries; inset maps; regions
Art
Developing new skills in drawing; studying famous paintings