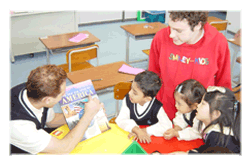 At SIS we are fully dedicated to providing the best education. After graduating from SIS K Class or completing our entrance examination, successful students are ready for the next exciting challenge at SIS. This is the SIS G1 Class. G1 textbooks and materials are a combination of Calvert (an American Educational Institute) and original materials and texts created by SIS. The program is created to provide a truly
International Education. The G1 program develops students into freethinking bi-lingual children who are strong problem solvers and have a full grasp of a wide array of subjects. In addition to our focus on subjects such as Math, Reading, Writing, Science, Geography, History and Phonics we are also providing students with many wonderful additional classes such as Music, Dance, Ballet, Physical Education, Swimming, Computer, Art, Listening Comprehension, Manners and Japanese.
Grade one is provided with a fully trained and educated homeroom teacher.
The homeroom teacher is responsible for the direction of the class.
In addition to the homeroom teacher many other teachers are highly involved and dedicated to the highest growth and education of each individual student as well as the entire G1 class. Students of G1 will have Native English Speaking Educators.
Also, Japanese and Bi-lingual staff from Japan as well as many other countries from around the world. Students will have Dance and Music Instructors. Students will also have several other teachers that are trained and have developed focus in specific subjects. At SIS we provide the path to success with the collaborative group effort of all our management, teachers and educators.
As a team we strive for a brighter future.
What Your Child Will Learn...
Technology

New! Application lessons, activities, and online interactive learning tool integrated with curriculum: beginning keyboarding; creating and formatting word processing documents; computer parts and navigation; developing graphics skills; visual mapping basics. Internet activities integrated with Reading and Science texts
Reading

Building a foundation for reading using the decoding process; emphasizing word analysis techniques, long vowels, digraphs, consonant clusters, vowel pairs, blends, r-controlled vowels, compound words, synonyms, antonyms, base words, prefixes, suffixes, syllables, possessives, abbreviations, and contractions; developing comprehension skills through consistent, controlled vocabulary used in appealing anthologies and phonics library book of stories
Writing/Composition
Learning cursive handwriting, using Calvert Script (the distinctive, easy-to-learn method of handwriting used in our Day School); emphasizing simple lines and legibility; strengthening fine motor skills and attention to detail; forming letters, words, and simple sentences
Mathematics

Featuring Calvert Math. Using numbers to 100; simple fractions; solid and plane shapes; money; equivalent amounts; fact families; measuring; adding and subtracting 2-digit numbers
Science

Studying trees; the sky; matter; forces; living things; growth and change
History
Exploring 36 original read-aloud stories; biographies of well-known explorers, pioneers, inventors, and political figures; accounts of famous events (Boston Tea Party, first Thanksgiving); activities included
Geography
Investigating five themes of geography; studying ground, and aerial views; four compass directions; maps, symbols, and map keys; globes
Poetry
Memorizing; reading for pleasure
G1 Full Course Materials:

98 Stories for Children

Here We Go!

Let's Be Friends

Surprises

Maps, Globes, & Graphs, Level A

Stories & Longer Verses

Writing Fun

Calvert Math

Calvert Math Practice &
Enrichment Workbook

McGraw-Hill Science

Activity Pages

Answer Keys for Daily Work

ATS Tests

Treasures

Wonders

Red Robin, Fly Up!

Reading Work Pages

Reading Word Cards

Phonics Library

History Read-Aloud I

Games & Activities

Developing creativity and motor skills