David Meyer
is one of the most conscientious and successful child educators in East Asia. With many years experience in Childcare and Education, he received an offer to start an establishment in 2003 in Tokyo, Japan. After initiating 8 educational centers for children of pre-school, kindergarten and also elementary school in Japan, he took a further step to develop his own unique educational system based on international programs and curricula written and enhanced by native instructors of the USA, UK, Australia and Canada.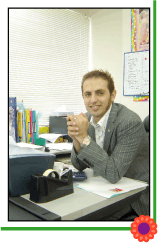 Enriching these inspiring programs which have been published in workbooks of 1000 pages plus for children aged 2-6 years, is David's personal experiences of international educational knowledge (N.B Copies of all books will be available for international sales by the end of 2010) constituting a highly positive addition to the educational system of the region.
We strongly believe that Principal David will make this unique system both well-known and a great resource for other schools around the globe to follow and help children towards a better and brighter future, enabling them to live happy and successful lives whist supporting others to live prosperously in a peaceful world.
As a Founding Director of ABC Corp., C.E.O. of S.G.L. Ltd (Smiley Group Limited Company), visionary leader of this innovative System and also a devoted Principal to S International School, his main focus has always been his students and their well-being. He has created the best and most conductive environment to inspire children. SIS's mission statement is at the core of his philosophy and is the guiding light of efforts to achieve its goals and aspirations.
Principal David believes that well educated and inspired students will experience a more peaceful world through intercultural understanding, love and respect. SIS is moving towards this vision of a brighter future. We welcome your active participation on the journey towards reaching everyone's dreams and goals and inspiring the best in our wonderful children. Please visit and enjoy our website and do not hesitate to contact us with any questions you may have. I look forward to hearing from you soon!
Board of Education and International Studies (GSI. Director); M. Peterson